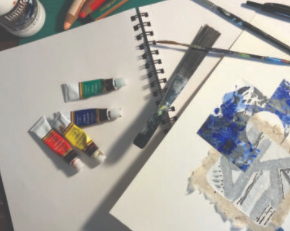 Six Week Workshop at Harford Artists' Gallery with Joy Carter
Designed for ALL – beginner to advanced
$145 per student for six week session
February 15, 22, March 1, 8, 15, 22
This is a first in a series of Abstract Experimentation workshops. It has been designed for ALL artists, whether beginner or advanced. In this class we will enjoy a playful, loose approach to developing our personal style.
We will explore basics such as:
• how music effects our paintings
• color combinations
• use of various tools
• understanding the elements of line, shape, texture, harmony and composition
On the last week (March 22), we will put together a studio book of the 25 works we've done throughout the class.
SUPPLIES: Students must bring Bristol Paper Sketch Book with paper cut into twenty-five
5" x 7" pieces, Black Sharpie (Thin), a second 8" x 10" sketch book.
For the first class (Feb. 15), instructor will supply palette knives, brushes, color wheel, colored pencils, liquid resist, acrylic paint. Students will be expected to bring their own for the rest of the session.
Call 410.420.9499 to register