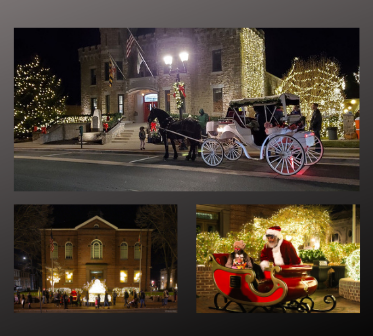 Downtown Bel Air is a beacon of hope and light this holiday season with thousands of warm white lights that create an enchanting stroll down Main Street. Lights will be on every evening from 5-10pm now through January 1, 2021. Plus, Saturdays through December 19th, enjoy a (socially distanced) visit with Santa, live entertainment and a horse drawn carriage ride through the streets of Bel Air. Children can even drop their letters off to Santa and, if they include a return address, they just might receive a response from the big man himself! A walk through town is a magical way to celebrate the holidays with friends and family.
There is no doubt that Christmas is a special time of year in Bel Air. Our historic downtown comes alive with so much to see and do. Our shops and restaurants need our support this year more than ever. Be sure to visit your favorites or stop in to someplace new while you're visiting downtown.
From beautifully decorated store fronts to captivating lights at Town Hall and Rockfield Manor, nothing beats the small-town feeling created in Bel Air during December.
For a full calendar of events, check out the official home of Christmas in Bel Air.
Winter Wonderland is made possible through efforts by the Town of Bel Air, The Bel Air Downtown Alliance and the Greater Bel Air Community Foundation.
Protective face covering is required of all guests, in accordance with
Governor Hogan's expanded mask policy (effective 7/31/20 at 5pm). Winter Wonderland staff will be present to ensure that social distancing requirements are respected.