Walking in a Winter Wonderland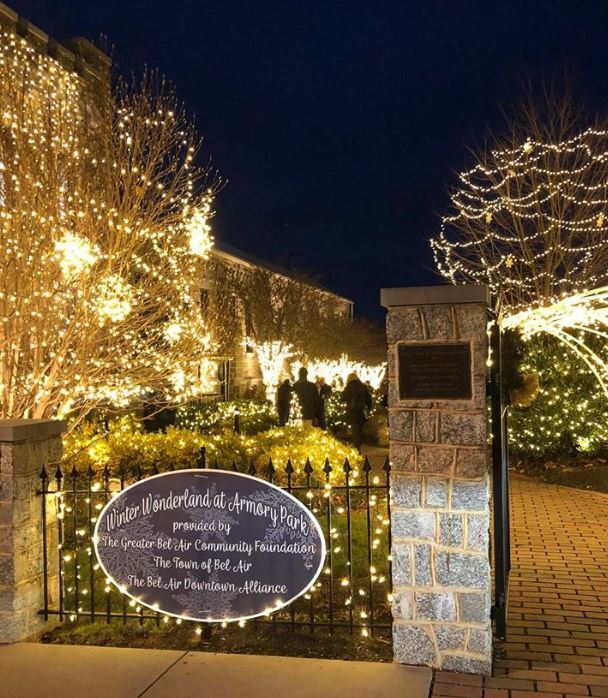 The Frederick Ward Armory Park is a glow this holiday season with thousands of warm white lights that create an enchanting stroll through the park. Saturdays through December 21st, enjoy hot chocolate, a visit with Santa or even a horse drawn carriage ride through the streets of Bel Air. We will even have a showing of It's a Wonderful Life at the Armory on December 7th! A walk through town ending at Armory Park, is a magical way to celebrate the holidays with friends and family.
There is no doubt that Christmas is a special time of year in Bel Air. Our historic downtown comes alive with so much to see and do. From beautifully decorated store fronts to captivating lights at Town Hall and Rockfield Manor, nothing beats the small-town feeling created in Bel Air during December.
The holiday calendar is full of events unique to the season from readings to concerts to special open houses. Is there someone on your list that would love a unique piece of locally made artwork? You can visit the Harford Artists Gallery for their Holiday Open House December 7th and 8th or keep an eye out at many of our stores and restaurants that carry local artists work. We have 16 stores in the District who are currently supporting our local artists! Sip and Shop, sponsored by the Bel Air Downtown Alliance, will be held on December 19th where you will find many shops with special promotions and that are staying open a little later to help you check items off your gift giving list.
Don't miss your opportunity to see holiday concerts in Bel Air as well. From the Susquehanna Symphony Orchestra to the Harford Choral Society to Tuba Christmas, we have it all. With several weekends of live holiday music, it's a great opportunity to stroll through downtown to enjoy the holiday lights or to eat dinner at one of our many local eateries before taking in the performance.
Don't forget that there is free parking in the Bel Air Parking Garage until December 31st complements of the Town of Bel Air Board of Town Commissioners. That will give you plenty of time to visit all of the shops and boutiques as well as get together with friends at of the many restaurants throughout the District. There are so many opportunities to shop and dine local this holiday season!
For a full calendar of events, check out the official home of Christmas in Bel Air.
Winter Wonderland is made possible through efforts by the Town of Bel Air, The Bel Air Downtown Alliance and the Greater Bel Air Community Foundation.